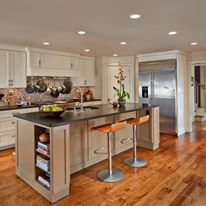 You Can Never Go Wrong With These 5 Kitchen Design Trends
Before we dive in the hottest kitchen design must-haves, let's consider  that the kitchen has always been considered to be the "heart of a home."  Besides enhancing your lifestyle and enjoyment, having a remodeled kitchen or bathroom when you decide to sell your house can increase the value–and can actually sell your house.  As a matter of fact, kitchen and master bathrooms continue to be the most desired areas for home improvement projects.  The most recent 2015-16 "Cost vs Value Report" from Remodeling Magazine list kitchens and bathrooms among the best investments one can make in a home.  With the current low interest rates and increased property values, most consumers believe that this combination makes a good investment return.  And, when you add the remarkable housing demand of Dallas-Fort Worth to the combination you have now gone from good to great with your investment return.
The kitchen is the most used and heavily trafficked area in the home.  And, families want to create memories in their home.  There is no better space for creating memories than the kitchen where you share memorable meals with family and friends.  Isn't the kitchen where everyone gathers in your home?  So, why not infuse some much needed personality and functionality into the epicenter of your home with a remodeled kitchen?
When deliberating over a new kitchen design or makeover, homeowners traditionally consider new countertops first, followed by an appliance facelift.  Not so fast!  Cabinets are where it's at.  Ideally, it's better to choose cabinets first and make the countertops and paint complement the finish, then select hardware and accent accessories/glass afterwards.  Appliances also play an important role in the space.  Here are the top 5 kitchen design trends that will make your kitchen current and marketable for a long time:
Trend #1 – White has definitely made a comeback in the kitchen.  67% of NKBA members said that white is the top choice for cabinets.  However, this time around it's not just white cabinets but everything in the kitchen is now going white…layers of white…backsplash, countertops and even white appliances.
Trend #2 – Goodbye granite and Hello Quartz!   Granite has proven not to be the best choice in kitchens that are heavily used.  Quartz is by far the toughest countertop material.  It resists scratches, spills and stains, burns and chips.  Most importantly, it is easy to maintain and doesn't require sealing annually to prevent staining.
Trend #3 – Accessibility/Universal Design is here to stay.  The aging in place trend is finally catching on because just a few modifications will allow you to stay in your home longer and independently.  A well thought out kitchen design makes so much sense.  Some of the top features include – side-opening ovens at counter height, deep pocket drawers and organizers, and microwave drawers.
Trend #4 – Good Lighting in the kitchen is critical to the design and nothing works better than LED lighting.  LED ribbons are showing up under cabinets, along toe kicks as night lights, concealed in crown moldings to wash the ceilings with light.  And, what makes the LED lighting even more special is the availability of colors.  You can get creative while being energy efficient.
Trend #5 – Contemporary design is on the rise with its sleek, simple design.  But remember, to some it looks cold.  Transitional design is a great go between.  You you can have the non-cluttered look of contemporary but mixed with the warmth of traditional.  The combination is truly ageless when designed properly.
Homeowners who are staying put and remodeling their existing spaces are making great investments.  Always be smart with your remodeling dollars.  Plan well and find a remodeling professional who will help invest your money properly so that you are not forced to go back and redo what you've done in a few years.
For more kitchen decor ideas, check out Top Reveal's article 17 Smart Kitchen Decor Ideas: Inspiring and Eye-opening.
Capital Renovations Group is an award winning, full-service residential design/build/remodel company and custom home builder. With a proven record of trust, partnership and creativity, we have delighted discerning homeowners in the Dallas market since 1999. Visit Capital Renovations Group to learn more.