Every major project has multiple layers of professionals involved —at minimum the client, the builder, architect and interior designer.  And, depending on the complexity of the project, a structural engineer, landscape architect or lighting designer may be needed. 
Every successful project also starts with great design. Once a design is complete and architectural plans are in place, historically, a general contractor is hired independent of the architect to build the project. The contractor, in turn, puts his own trades together to complete the work. This construction team often includes a designated project manager, administrative support and specialized trades. 
As you can see, this process results in many degrees of separation between the design team and the builder. Along the way, problems can arise resulting from miscommunication or unclear directions. And, resolving conflicts can delay or even stop a project in its tracks. 
By involving a builder early in the design process and working in collaboration with the architect or interior designer, you can avoid these problems altogether. A teamed approach can even flag issues early on and prevent increased costs to the homeowner. Here are several reasons why working together is better:
Benefits of a good relationship
Good communication and collaboration are essential parts of the partnership between a builder, architect and interior designer. Professionals who have had plenty of experience working together and have developed a good rapport can make all the difference in your project running smoothly. 
Whereas an architect begins each project developing the vision, a builder provides essential information about the construction methods and associated costs. By working together, they can successfully resolve any logistical concerns in alignment with the homeowner's goals early in the process—potentially saving the client valuable time and money.  
In a good relationship, architects and builders will collaborate on the project goals, discuss barriers to those goals, the clients' desired outcomes, the architectural details of the home, etc. In harmony, they also communicate openly about materials, timelines, and budgets. When architects and contractors share ideas with each other, they collectively pull from their own experiences to resolve complex design issues. 
Ultimately, you benefit from the experts weighing in on your project early in the process—willingly and openly helping you develop creative ways to bring your vision to life and meet your timeline and budget parameters.
Risks of a bad relationship
When the builder and architect are not on the same page, or when there is poor communication, it can ultimately lead to project failure. A construction or remodeling project needs both a designer and a builder. If the two don't work well, the project can come to a halt.
A strained or unhealthy relationship between the design and construction team can cause budget and scheduling issues. When unforeseen problems arise during construction, finger pointing and accountability issues can occur often leaving the client paying the tab to correct the issue.   
What makes a relationship successful?
Architects, interior designers and builders should begin working together collaboratively as soon as a project starts—the earlier the better. Each professional brings a unique skillset and deep breath of knowledge, which proves invaluable to a project in keeping it on scope, on budget, and on schedule.  
Key to a project's success is communication. If one party isn't talking to another or is withholding information that is key to a project's success, then the client suffers—the project suffers. 
Problems come up on every project. They are simply unavoidable. Project issues such as budget concerns, site logistics, scheduling, and scope changes are all solvable when everyone communicates and works together to come up with a viable solution.
Teams that work together and creatively problem-solve create an environment of inclusiveness and healthy collaboration that ultimately makes the project a success and ensures a good client experience.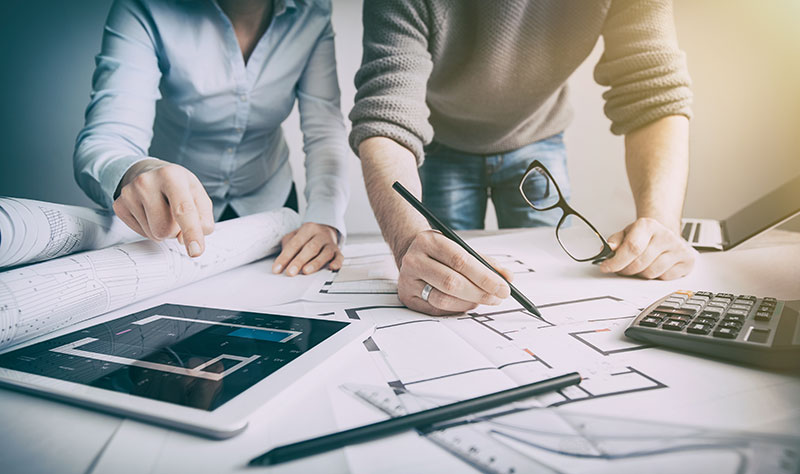 Working with a design-build contractor makes a difference
Some contractors hire their own in-house design team. Others have created deep relationships with architects and interior designers who not only love what they do but enjoy working together.
This enthusiasm translates directly to your projects when you are paired with an ideal team member who will create a beautiful design that reflects who you are and how you want to live your life. 
Hiring a design-build contractor ensures that you are working with a design and construction team who knows and trusts each other, unified in carrying out the vision of your project. Simply stated…You get the best of both worlds!
Financially, you're at an advantage of working with a design-build company that manages the contracts, uses a coordinated billing system, and one dedicated account manager or project manager to communicate with you throughout the project. Juggling architects, engineers, interior designers, and trade contractors can be a lot for a busy homeowner. Having one main point of contact for the entire team makes communication easier and the process smoother.
How to get started
Are you planning to build a custom home, or will you be remodeling your home soon? 
A good working relationship with a design-build team equally balanced between architect, interior designer, and builder can mean all the difference between success and failure.
Start by doing your research. Ask for referrals, read client reviews, and choose companies that specialize in your project scope. Pay close attention to how the architect and contractor communicate. What expertise do they bring to your project? How much experience do they have?
Ready to start a conversation about your remodel or construction project?
If you're ready to start a remodeling or major home improvement project it's important to hire an experienced design-build remodeling firm like Capital Renovations Group. We thrive on finding creative solutions to architectural projects and bring a unique team of experts together to collaborate on new custom home or renovation projects.
For ideas for your project, see our portfolio of projects. You can read more about our process, or contact us today for an appointment.