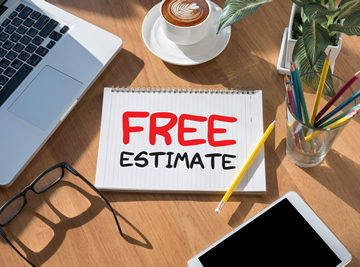 Reality Check on Free Home Remodeling Estimates
Creating a detailed line item budget estimate for a major home remodeling project is a very time consuming and well thought out process. We typically spend over 40 hours to complete our project scopes and budgets on large projects. This includes multiple trips to the project site to collect data, meeting with various trades, staff time, etc. It amazes me how some remodeling contractors don't charge clients for that service. The majority of the seasoned contractors understand the tremendous value and experience that goes into getting the estimate right at the onset. Taking the time to do a thorough and accurate job on the estimate will save time, expense and headaches over the course of the project, and is well worth the consultation fee. See how it all comes together in one of our line item budgets.
Are "Free" Estimates Really Free?
Remodeling contractors that offer free estimates as a "loss leader" to get the project, simply can't afford to spend the required time to prepare accurate estimates with detailed scopes of work. Often, the result is they provide an incomplete ballpark estimate and vague project scope that doesn't accurately reflect the true cost of a project. This approach often becomes painfully evident for homeowners when they choose to move forward based on ambiguous information. Many of those contractors rely on a "cost-plus" contract to cover themselves when the project starts running over budget and behind schedule. Homeowners often discover this only after the project begins, when their contractor starts telling them "that's not included in your budget". Then the client feels forced to pay more or risk the remodeling contractor walking away without completing the project. After all, what incentive does the contractor have to keep costs within a budget when they profit from cost overruns using cost-plus contracts?
Fixed-price versus Cost-plus
To ensure that you don't fall victim to that scenario, you must do your due diligence in selecting a seasoned remodeling contractor that takes the time up front to ensure the budget is realistic and the scope of work is clearly written and understood by all parties. Capital Renovations Group provides fixed-price contracts to ensure that your project will be completed within budget. This assures that the price is not subject to any adjustment unless there are certain provisions such as a change in the project scope or an unexpected reveal that was not ascertainable before actual work begins. Occasionally we find termite damage, wood rot, shoddy construction or other problems after walls, floors or ceilings are exposed at demo. In that scenario, we notify you about the unexpected problems, discuss the options to repair or correct the problem and the cost associated with it before proceeding. Inevitably projects encounter a few surprises during a remodel, so we tell our clients to set aside 10-15% of the project cost to cover those unforeseen expenses.
If you want to learn more about the design-build process, please visit our website at www.capitalrenovationsgroup.com.